Windows 8 Internet Explorer 10 consumer preview
Microsoft has posted its consumer preview, along with video, on the new Internet Explorer 10 web browser within the Metro user interface, and claims to improve web browsing on touchscreen devices and those on personal computers.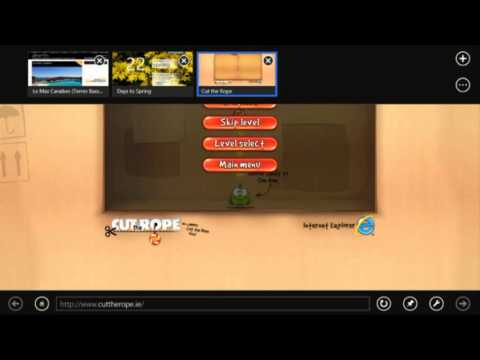 Internet Explorer 10 will ship with Windows 8 operating systems and appears to be pushing hard into touchscreen products. IE10 will will be part of the Metro style experience with its heavy integration and claims "IE10 is designed to make website interaction fast and fluid for touch as well as for heavy mouse and keyboard use"
While building and tuning the Metro style browsing experience for the Consumer Preview, we realized it is a better way to browse – whether on a desktop computer with a big screen, mouse and keyboard, or on a touch-enabled mobile device. As people browse more "chromelessly" on their phones, they've become accustomed to a more immersive and less manual browsing experience compared with the desktop. Metro style browsing offers you a full-screen, immersive site experience. With IE and Windows 8 you can always use the charms to accomplish what you want to do next with a website (e.g. share, print, search…). We've found that many people – even those with the most enthusiastic and intense browsing patterns – prefer Metro style browsing because it's less manual and more focused on what you browse than on how you browse.
Summary of changes from the Developer Preview
Full, independent composition enables responsive, fast and fluid behavior on real websites (including pages with fixed elements, nested scrolling regions, animations, and video)
Back and forward swipe navigation with preview
Double-tap to zoom in on content
Fast back and forward navigation controls for mouse
Mouse (CTRL+scroll wheel) and keyboard methods for quickly zooming in and out to mirror touch interactions
Automatic domain suggestions for faster navigation and less typing
Share charm support for URLs, snippets, images and selection with Mail and other apps
Search charm with visual search suggestions
Devices charm for printing, projecting, and playing video to external devices like TVs
Plug-in free support: notifications for sites requiring activeX
Background notifications for pinned sites and other tile improvements
Jumplists for pinned sites
InPrivate tabs that are easier to open
Clean up tabs command, which quickly closes all but current tab
Microsoft also mentioned security with Internet Explorer 10 will benefit from Windows 8 OS as it "takes advantage of Windows 8 to provide "Enhanced Protected mode" for better isolation of website content in each tab. InPrivate browsing is also extended to run per-tab, so you can run some pages InPrivate, leaving no history, cookies, or cached data."
via MSDN Blog
---
Comments
comments
Categories:
Latest News
,
Top 10 Headlines
.