Guild Wars 2: Mini-Pets!
With April 10th rapidly approaching for open pre-orders (we here at ipKonfig are placing bets on 4Million pre-orders), we just can't get enough Guild Wars 2 info! And what more than to share more information with our fellow readers: Mini-Pets!
Yes, Mini-Pets! "Miniatures (or mini-pets) are downsized versions of NPC models which can be summoned to follow a player around. They do not fight or add any combat advantage." That's right — pets you don't have to actually take care of. Pet's can be obtained several different ways from purchasing, drops and or achievements within the game. (no full details on drops yet)
Below are the Hall of Monument Pets
Pre-order awards, currently only one, are also available with the Miniature Rytlock, which is received from purchasing the Digital Deluxe and Collector's Edition of Guild Wars 2.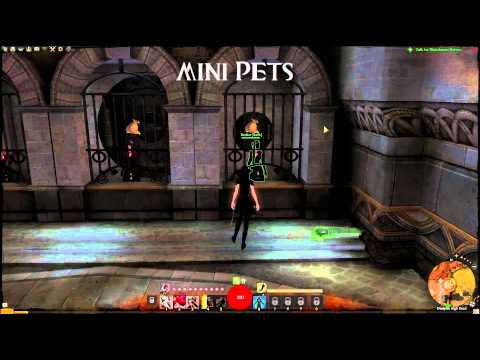 Also available within the game are the following Mini-Pets:
Frost Spider
Ice Elemental
Dredge Excavator
Dredge Strazar
Dredge Resonator
Svanir Hunter
Shaman of Jormag
Wolfborn
Wolfborn Hunter
Bandit Cutpurse
Big Nosed Ted
Inquest Extinguisher
Inquest Technician
Storm Imp
Swamp Drake
Swamp Spider
Green Moa
Seraph Heavy Guard
Modniir Ice Sage
River Drake
Frost Fang
River Drake Broodmother
Eelob Poisonfang
Skarn Darkhoof
Comrade Molechev
Yaolt the Fierce
High Inquisitor Maut
Zojja
Logan Thackeray
Ragar Shardhammer
Peacekeeper Shocktrooper
Frost Drake
White Moa
Dredge Mining Suit
PK 632Z
Seraph Mage
Modniir Berserker
Bandit Scout
Bandit Saboteur
Eir Stegalkin
Svanir Icebreaker
Svanir Berserker
Wolfborn Berserker
Wolfborn Shaman
Bandit Bruiser
Yellow Moa
Forest Spider
Windrider
Tamini Warrior
Harathi Sharpshooter
Peacekeeper Sharshot
Peacekeeper Soldier
Inquest Golemcaster
Mark I Assault Golem
Hylek Amini
Hylek Nahualli
Hylek Cuicani
Hylek Tlamatini
Seraph Archer
Seraph Recruit
---
Comments
comments
Categories:
Latest News
,
Top 10 Headlines
.