Boston Dynamics' Dynamic Robot Manipulation
It's so creepy watching videos of their latest tests and creations, but they are entertaining. Almost like watching the creation of 'Skynet' unfold hundreds of years in the beginning – and we get to see chapter one!
Boston Dynamic shows off its "BigDog" robot and how it handles heavy objects, which it says the goal is to use the robots legs and torso to power motion the arms when tossing large objects. One would think it would be a great robot for helping victims buried under rubble — but seeing this thing lift heavy objects off you would probably give you a heart attack! (they need to put some skins on these fella's)
Seriously it's like looking at a horse with "Mad Horse Disease"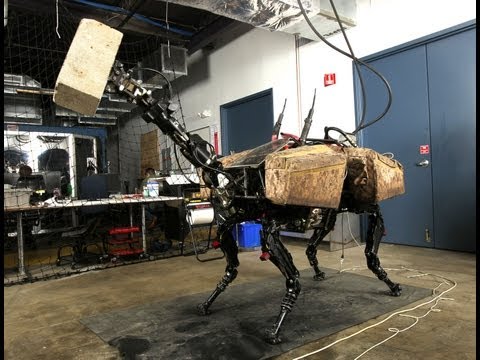 BigDog handles heavy objects. The goal is to use the strength of the legs and torso to help power motions of the arm. This sort of dynamic, whole-body approach to manipulation is used routinely by human athletes and will enhance the performance of advanced robots. Boston Dynamics is developing the control and actuation techniques needed for dynamic manipulation with funding from the Army Research Laboratory's RCTA program.
---
Comments
comments
Categories:
Latest News
,
Top 10 Headlines
.