Boston Dynamics: the RHex Rough-Terrain Robot – with a tail
I never get bored watching Boston Dynamics videos of their crazy, yet useful, robots — in fact I can't seem to get enough! Next up is the six-legged RHex Rough-Terrain Robot. (he even has a little tail!)
This little guy sports six legs and has some high mobility features — though it looks more like a dog trying to run with broken legs…ok that's a bad visual. RHex Rough-Terrain Robot legs are independently controlled allowing it to climb most any rough terrain without much effort from the operators input. His body is fully sealed allowing for operation in wet, muddy or swampy conditions.
"Hex's remarkable terrain capabilities have been validated in government-run independent testing. RHex is controlled remotely from an operator control unit at distances up to 700 meters. Visible/IR cameras and illuminators provide front and rear views from the robot." Boston Dynamics said on its website.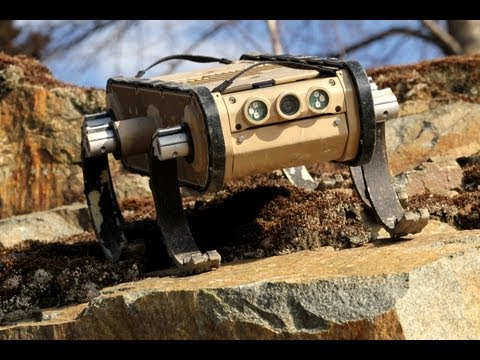 Rhex weighs in at 27.5lbs, without batteries of course, and comes in at a dimension of 22"L x 16"W x 5.2"H when his legs are not extended. The operator can control RHex using an IP Radio with a 400-700m range, and carries fore and aft cameras and illuminators: driving resolution of 320x240px, still image of 1280x960px and an illuminator with adjustments of 6W visible and 6W infrared. RHex even provides the operator with live video feed for remote operations.
via Boston Dynamics
---
Comments
comments
Categories:
Latest News
,
Top 10 Headlines
.