Back to the Future — Hover Board to become real
It is not uncommon for movies to spark interest in gadgets among consumers. From James Bond to Back to the Future movies — consumers see and want what's on the big screen.
Driving your car from a smartphone has become real, and self-tying laces are now available. But one thing stuck out  most from Back to the Future: the Hover Board! Every kid, including me, wanted one. Now years later, Mettel says it will release one — hold up though, as the company says it will 'glide' more than 'hover'. Still, a step in the right direction — right?
"Finally! This totally awesome 1:1 replica of the hover board from the BTTF 2 and BTTF 3 films includes multiple whooshing sounds and will glide over most surfaces," Mattel said on its blog.
The company, however, will not start production on the product unless it see's enough fan-base, as production of such a device will be quite expensive. "Because this is such a high-cost item, there will be a minimum number of orders required to go into production," Mattel said. "If we don't receive the minimum orders, won't go into production and customers will not be charged."
As for a "Hover" version — the company says "does not actually 'hover' – check back in 2015 for that feature." Those interested will happy to know a price tag will be announced later this month, so don't go dumping 'cow manure' on any school bullies just yet.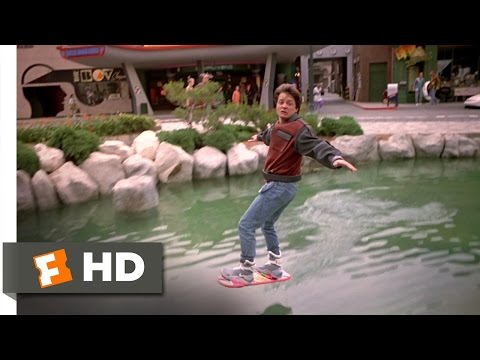 A Hoverboard (or hover board) is a fictional hovering board used for personal transportation in the films Back to the Future Part II and Back to the Future Part III. Hoverboards resemble a skateboard without wheels. Through special effects the filmmakers depicted the boards hovering above the ground. During the 1990s there were rumors, fueled by director Robert Zemeckis, that hoverboards were in fact real, but not marketed because they were deemed too dangerous by parents' groups. These rumors have been conclusively debunked. Some companies hoping to leverage the commercial success of the movies have marketed hovercraft vehicles as hoverboards, but these products have not been shown to replicate the experience depicted in the movies. Subsequent to the movies the hoverboard concept has been reused by many authors in various forms of media in fictional universes not directly related to Back to the Future. via WikiPedia
---
Comments
comments
Categories:
Latest News
,
Top 10 Headlines
.