Ayah Bdeir: Engineer and artist behind 'littleBits' Building blocks
Ayah Bdeir, an engineer, inventor and interactive artist, is the brain child behind "littleBits", an opensource library of electronic modules that snap together with tiny magnets for prototyping and play. "LEGO has essentially taken the concrete block, the building block of the world, and made it into the building block of our imagination.", Bdeir says as she readies her demonstration of "littleBits".
"littleBits" can be used as a teaching tool for children, and a great way to spend time with engineer friends. "littleBits" modules are also color coded: green is output, blue is power, pink is input and orange is wire. By snapping certain modules together, tinkerers can build a simple light by connecting a blue module to a green module. The possibilities are virtually limitless, provided you have a large enough set I would assume. Another unique feature about "littleBits" are the magnets that allow each module to connect to each other, and won't connect when trying to place the magnet's polarities together.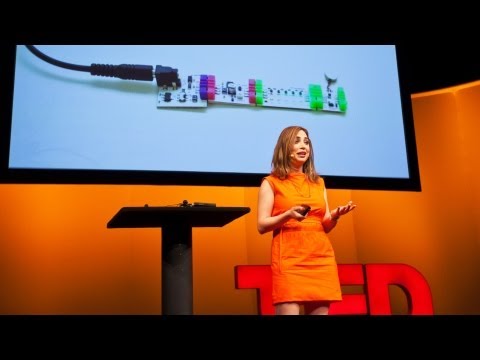 The idea behind "littleBits" was to provide simple play, yet be powerful. "Instead of having to program, to wire, to solder, littleBits allow you to program using very simple intuitive gestures." says Bdeir.
Ayah received her master's degree from the MIT Media Lab and undergraduate degrees in computer engineering and sociology from the American University of Beirut. Ayah has taught graduate classes at NYU and Parsons and taught numerous workshops to get non-engineers – particularly young girls – interested in science and technology. She is also the founder of karaj, Beirut's lab for experimental art, architecture and technology. littleBits was named Best of Toyfair, has won the editor's Choice award from MAKE magazine, and has been acquired by MoMA for its collection.
---
Comments
comments
Categories:
Latest News
,
Top 10 Headlines
.